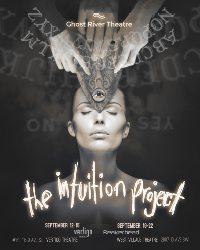 The Intuition Project
When
Runs from Wednesday September 12 2018 to Saturday September 15 2018
Approximate running time: 2 hours
Venue
Studio
115 - 9th Ave SE
Calgary AB T2G 0P5
Play Notes
×
In May 2018, the Ghost River Theatre company met at the West Village Theatre in Calgary, AB to investigate the most mysterious of the senses: intuition. The artistic researchers executed a series of experiments such as meditation, Extra Sensory Perception (ESP) tasks, and psychometry readings to access and evaluate their innermost intuition. The final exercise involved a Ouija board, after which the artistic laboratory was immediately shut down.
These findings are now being made public.
The newest installment of the Six Senses Series (SCENT BAR, TOMORROW'S CHILD, TOUCH, TASTE), THE INTUITION PROJECT invites you to analyse the evidence for yourselves. Are you a Believer or a Skeptic? Will your perceptions shift by the end of the evening?