Sherlock Holmes and The Vanishing Thimble Saturday March 5 2022 at 7:30 PM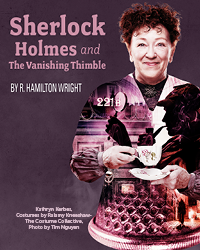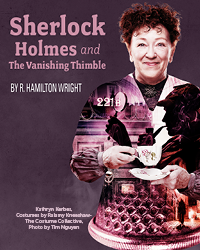 You've selected
Saturday March 5 2022 at 7:30 PM
Change Date
×
BY R. HAMILTON WRIGHT
Blackmail, murder and a new twist on everyone's favourite dynamic duo.
Monday morning, the 1st of December, 1895. Location: 221b Baker Street, London, aka the home of Sherlock Holmes and Dr. Watson. Long time landlady Mrs. Edith Hudson asks, "Sherlock, have you seen my thimble anywhere?" This simple and most mundane question casts the residents of Baker Street down a rabbit hole of adventure. Along the way Scotland Yard will intrude, a most surprising visitor will drop in and Mrs. Hudson must discover her inner detective. Does she have what it takes to solve the case of The Vanishing Thimble?
A classic escapade and world premiere written by R. Hamilton Wright, author of SHERLOCK HOLMES AND THE AMERICAN PROBLEM and SHERLOCK HOLMES AND THE RAVEN'S CURSE.
Venue
The Playhouse
115 - 9th Avenue SE
Calgary AB T2G 0P5
Performance Notes
BD&P Mystery Theatre Series